Elementary Choir
Century II Concert Hall
Feb. 27 - 6:00 PM
All Seats - General Admission - $7.00
WichitaTix Box Office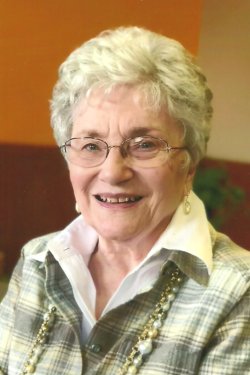 Marilyn Killian
2020 KMEA All-State Elementary Choir Conductor

Marilyn Killian, Founding Director, Emerita, of the Wichita Community Children's Choir, was Adjunct Professor of Music Education at Friends University, 1991-2004, after retiring from the Wichita Public Schools. Marilyn holds degrees from the University of Missouri-Columbia and the University of Illinois-Champaign-Urbana. She demonstrated comprehensive musicianship in both choral and instrument genres during her long and successful career in the music education. The Kansas Arts Commission named Marilyn Killian the recipient of the 2005 Governor's Arts Educator Award in recognition of the quality and significance of her work. She was inducted into the Kansas Music Educators Association Hall of Fame in 1995, and in 1992 Marilyn became the first female recipient of the prestigious Harry Robert Wilson Award for outstanding work in choral music awarded by the Kansas Chapter of the America Choral Directors Association. The Wichita Arts Council named Marilyn the recipient of the 2012 Burton Pell Award for Individual Musicianship. Under Marilyn's direction, the Wichita Community Children's Choir was invited via recorded audition to perform in Phoenix (MENC), St. Louis ACDA, RPMDA, and Kansas City. Her Kensler Elementary School Choir performed at the 1977 MENC in Kansas City. The WCCC performed in Kansas City for MTNA. At KMEA, the WCCC performed 7 times and her Kensler choir 5 times. Students from her choirs were accepted to perform with National ACDA Choirs in Washington, D.C., San Antonio, New York City, and Los Angeles. They were accepted into Regional ACDA Choirs in Dallas, Oklahoma City, and Little Rock. The WCCC was asked to perform for the Dedication of the Governor's Mansion in Topeka, 2001, and to perform with the Wichita Symphony Orchestra in 1994, 2004 and to sing with Samuel Ramey in his Gala Concert in Century II in 2001. Marilyn and Don live in Wichita, Kansas. Don is Associate Professor of Mathematics, Emeritus, Wichita State University. Their son Steve lives in Seattle, Washington, where he is a Consultant in Organizational Management.
ATTENTION TEACHERS...
If your student will not be able to participate, please contact the chairperson immediately so that an alternate can be contacted.
If alternates are needed, the chair will contact directors.
Alternates are listed at the bottom of this page.
The invoice for Participation Fees will become available in your Festival Scores account on Dec. 10.
Schools are listed according to location (city).
Alma Elem.
Duke Beggs
Ashanty Lopez-Alvarez
Dayton Winkler
Andover-Martin Elem.
Blake Royse
Brooklyn Waldron
Mallory Wilcox
Andover-Prairie Creek Elem.
Caroline Carter
Aliyah Dickman
Ilham Hemed
Elias Kachelmeier
Cate Killion
Caden Pritchard
Abigail Robison
Ethan Shann
Emme Strickland
Andover-Sunflower Elem.
Kennedy Hayden
Lena McVay
Britlynn Schmidt
Zoey Shafer
Ashland Elem.
Molly Harris
Audrie Ivie
Paityn Klaker
Atchison MS
Chacey Dollins
Baldwin Intermediate
Joelle Nichols
Chanute Christian Academy
Leah Burnett
Chanute Elem.
Nathan Guernsey
Jocelyn Sluder
Lani Stanfield
Chapman Elem.
Kemmalyn Freeman-Schultz
Chase Elem.
Billy Higgins
Colby GS
Ainsley Nickols
Colby MS
Maddie McCarty
Concordia Elem.
Sophia Fraley
Derby-Tanglewood Elem.
Hayley Jayne
Ellie Swindle
Dodge City-Ross Elem.
Lilianna Bradfield
El Dorado-Grandview Elem.
Sophia Crawford
Chloe Iverson
Addison Penner
Izzy Todd
Ellis-St. Mary's GS
Shiloh Gaschler
Eskridge-Mission Valley Elem.
Lydia Price
Braylyn Trout
Sam Wainwright
Fort Riley Elem.
Reagan Brock
Blair Carpenter
Fort Scott-Eugene Ware Elem.
Maddison Buckman
Madi Davis
Kennedy Toth
Frontenac-Frank Layden Elem.
Gabrielle Barnes
Madilyn Bukowski
Kennedy Burke
Jacob Kyser
Stevi Likely
Gabe Martin
Mic Muller
Ani Pile
Lakyn Sullivan
Rain Warren
Galena-Liberty Elem.
Tyson Crusa
Katie Haney
LeRoy Lake
Rylie Meyr
Brodie Reynolds
Gardner-Madison Elem.
Cami Collum
Jeryn Gorney
Kiersten Griffin
Mackenna Holiway
Lily Merrifield
Calen Piper-Verdict
Jack Schaffert
Molly Sprague
Gardner-Pioneer Ridge MS
Audrey Gainer
Katie Mallon
Gardner-Trail Ridge MS
Charles Weatherford
Gardner-Wheatridge MS
Braelyn Sena
Goddard-Discovery Intermediate
Emmarie Barger
Greensburg-Kiowa Co. Elem.
Jiwoo Chang
Halstead Schools
Leah Parks
Haviland GS
Cadie Follette
Sawyer Lingafelter
Hugoton Elem.
Kinley Howie
Hutchinson-Central Christian
Luke Eigsti
Kingman Elem.
Bella Bennett
Layla Crotts
Trinistasia Shelton
Taryn Thomas
Elizabeth Wallace
Lawrence-Sunflower Elem.
Bella Neuteboom
Rosalyn Peterman
Leavenworth-Xavier Catholic
Brooke Smith
Lyons-Central Elem.
Carlin Silva
Manhattan Catholic
Addison Crouch
Meriden-Jefferson West Elem.
Sophia Hinkle
Meriden-Jefferson West MS
Harriet Dean
Emma Ketchem
Leroy Staniec
Violette Whipp
Olathe-Green Springs Elem.
Kalie Boyack
Braelyn Giles
Kyle Hubbard
Olathe-Madison Place Elem.
Selah Estes
Kyler Mitchell
Overland Park-Pleasant Ridge Elem.
Anna McGruder
Getchen Throssell
Paxico MS
Conrad Cassell
Jaryn Meseke
Keaton Mulanax
Plains Elem.
Grace Roberts
Addyson White
Quinter GS
Ella Gruenbacher
Kendall Johnson
Russell-Bickerdyke Elem.
Riley Becker
Chayla Prendergast
Aleena Rinehart
Shawnee-Maranatha Christian Academy
Yohanna Ayana
Paige Baumler
Rosalyn Baumler
Esther Fitsum
Eliza French
Ava Hugunin
Braeden Oglesby
South Haven
Piper Dodds
South Hutchinson Elem.
Havily Blasdel
Amerie Goodman
Anastasia Martin
Yazmin Pena
Spring Hill-Wolf Creek Elem.
Chloe Burch
Claire Burch
Logan Durham
Nathan Kyalo
Audrey Moll
St. George Elem.
Liam Brubeck
Emmerson Gehrt
Halle Reitz
St. Marys GS
Evelyn Jones
Jordan O'Halloran
Sterling GS
Macie Gillespie
Cooper Pieplow
Riley Plett
Cody Schweizer
Stilwell Elem.
Hannah Murphy
Topeka-McEachron Elem.
Abigail Cobler
Lyrik Moore
Topeka-Williams Magnet
Megan Myer
Valley Center Intermediate
Esther Busenitz
Ruth Busenitz
Warren Hellwig
Jocelyn Robles
Valley Center-Abilene Elem.
Violet Bradley
Ivy Goering
Barrett Helwig
Valley Center-Wheatland Elem.
Ella Wheeler
Wamego-West Elem.
Sam Rogers
Wichita-Adams Elem.
Julian Armas-Quintanilla
Wichita-Cleaveland Magnet
Emily Roush
Wichita-Paul B. Cooper Elem.
Jackey Alonso
Wichita-Wheatland Elem.
Benjamin Walker
Allie Wells
Wilson Elem.
Jacey Larsen
Alternates
Alternates are displayed in alphabetical order by school name. Should alternate(s) be needed, the chair will contact directors. Alternates are expected to be prepared with their music in the event they are called up.
| | | |
| --- | --- | --- |
| | Elena Potochnik | Andover-Prairie Creek Elem. |
| | Anni O'Dell | Chanute Elem. |
| | Allyson Jenkins | Derby-Tanglewood Elem. |
| | Eve Osborne | Leavenworth-Xavier Catholic |
| | Logan Schubert | Lyons-Central Elem. |
| | Madison Dawson | Manhattan Catholic |
| | Madelynn Anderson | Roeland Park-St. Agnes Catholic |
| | Emily Aragon | Shawnee-Maranatha Christian Academy |
| | Luke Skinner | St. George Elem. |
| | Jade Hartfield | Wichita-Paul B. Cooper Elem. |