Elementary Choir
Century II Concert Hall
Feb. 21 - 5:45 PM
All Seats - General Admission - $7.00
WichitaTix Box Office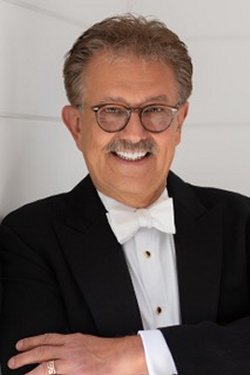 Henry Leck
2019 KMEA All-State Elementary Choir Conductor

An internationally recognized choral director, Henry Leck is a professor emeritus in choral music at Butler University, where he served on the faculty for 27 years. He is the Founder and Conductor Laureate of the Indianapolis Children's Choir where he served for 30 years. Mr. Leck has conducted Mixed, Men's, Women's, Junior High and Children's All-State choirs and festival choirs in nearly every state. He is a frequent conductor of regional and national honor choirs, including the ACDA Southern, Southwest, North Central, Central, Western, Eastern and Northwest Honors Choirs. In 2003, he conducted the ACDA National Junior High/Middle School Honor Choir in New York City and in 2011, the ACDA National Children's Honor Choir in Chicago. On three occasions, he has conducted National Honor Choirs for OAKE. Mr. Leck conducts extensively throughout the world, including festivals in Brazil, England. Bulgaria, Italy, Spain, Mexico, China, Latvia, Japan, Spain, Ireland, Austria, Germany, Malta and Canada. As Founder and Artistic Director of the Indianapolis Children's Choir he has toured every continent except Antarctica. Mr. Leck was named a recipient of the Lowell Mason Fellows Award which is the highest award given, by the National Association for Music Education. He was named Outstanding Hoosier Musician in 2016 by IMEA. He is a recipient of the NUVO Lifetime Achievement Award and the Indiana Historical Society Indiana Living Legend Award. He recently was awarded the Distinguished Service Award from Chorus America. Mr. Leck is widely known as a specialist in choral techniques, the child's voice, Dalcroze Eurhythmics, Laban and the boy's changing voice.
ATTENTION TEACHERS...
If your student will not be able to participate, please contact the chairperson immediately so that an alternate can be contacted.
If alternates are needed, the chair will contact directors.
Alternates are listed at the bottom of this page.
The invoice for Participation Fees will become available in your Festival Scores account on Dec. 11.
Schools are listed according to location (city).
Alma Elem.
Duke Beggs
Conrad Cassell
Jaryn Meseke
Keaton Mulanax
Andover-Martin Elem.
Gabrielle Kanagy
Caroline Marrero-Piccard
Nate Scholl
Riley Jo Simmons
Paige Stieben
Andover-Prairie Creek Elem.
Olivia Doshier
Kennedy Hayden
Ilham Hemed
Harper Jones
Elias Kachelmeier
Kilian Kelley
Cate Killion
Caden Pritchard
Abdiel Silva-Trujillo
Jaylen Wilson
Chanute Christian Academy
Leah Burnett
Chanute Elem.
Nathan Guernsey
Chapman Elem.
Jade Beary
Adelynn Kirkpatrick
Colby GS
Maddie McCarty
Derby-Tanglewood Elem.
Henry Blagg
Karlie Demel
Sasha Dietz
Ella Hadley
Ashlyn Zerger
Erie Elem.
Teresa Dominguez
Addicyn Martin
Eskridge-Mission Valley Elem.
Hemi Duehring
Paige Kibbee
Gunnar Trickel
Fort Scott-Eugene Ware Elem.
Elsie Hurd
Analeise Rupprecht
Frontenac-Frank Layden Elem.
David Buzard
Hailie Feagan
Maddoc Johnston
Stevi Likely
Delaney Lusker
Kylin Perry
Abigail Portenier
Galena-Liberty Elem.
Jaxson Bailey
Garden City-Charles O. Stones Intermediate
Kaylin Nonhof
Garden Plain Elem.
Hayden Graves
Gardner Elem.
Leah McKelvey
Gardner-Sunflower Elem.
Zoey Duarte
Abby Southerland
Gardner-Trail Ridge MS
Molly Carleton
Taylor Kvas
Rhena Mungania
Lilly Stuart
Madison Valle
Michael Williams-Seybert
Gardner-Wheatridge MS
Mackenzie Huebner
Alexia Marks
Journey Whitlow
Girard-R. V. Haderlein Elem.
Ben Scheibe
Goddard-Discovery Intermediate
Alessa Stephenson
Haviland GS
Cadie Follette
Hallie Frazier
Jace Frazier
Sawyer Lingafelter
Kingman Elem.
Abigail Clover
Montanna Smith
Lawrence-Cordley Elem.
Natalie Cope
Bella Maletsky
Quinn Thompson-Aaron
Lawrence-Sunflower Elem.
Emily Ahern
Luna Barajas Brown
Clover Fagan
Violet Thompson
Leawood-Prairie Star Elem.
Grace Burleigh
Leoti-Wichita Co. Elem.
Jentri Porter
Lyndon Elem.
Asher Edington
Maize-Vermillion Elem.
Katareena Birkner
Maggie Jennings
Hadlee McConaghie
Allison Owens
Maple Hill Elem.
Scilynn Gros
Meade Elem./JH
Ashley Martin
Bethany Reimer
Meriden-Jefferson West MS
Madison Cordray
Izzy Higgins
Newton-Santa Fe 5/6 Center
Ellie Entz
Oberlin Elem.
Elizabeth Weyeneth
Gage Williby
Olathe-Madison Place Elem.
Selah Estes
Bella Gandini
Diana Heidary
Emily Stipsits
Olathe-Ravenwood Elem.
Mila Adriano
Aubrey Berthold
Amelia Garrison
Hayden Trullinger
Overland Park-Miller Marley School of Dance and Voice
Laikyn Large
Overland Park-Pleasant Ridge Elem.
Harper Farney
Sophia Henton
Overland Park-Stanley Elem.
Parker Walley
Plains Elem.
Jackson Stanfield
Quinter GS
Lauren Blackwood
Riverton Elem.
Brinley Boyes
Jaxon Dhooghe
Madison Morgan
Addy Wheeler
Amberly Youngblood
Roeland Park-St. Agnes Catholic School
Madelynn Anderson
Rolla Elem.
Samantha Dunn
Russell-Bickerdyke Elem.
Madelyn Combs
Izabelle Depiesse
Haiden Faircloth
Payton Schneider
Shawnee-Maranatha Christian Academy
Eliza French
Abigail Guinn
Abigail Nash
Quinn Sramek
South Hutchinson Elem.
Mersadies Marciano
Spring Hill-Wolf Creek Elem.
Madyson Bradshaw
Chloe Burch
Claire Burch
St. George Elem.
Reagan French
Trewman Haub
Eric Timm
Sterling GS
Jace Darnauer
Caleb Giorgetti
Leila Goble
Chloe Nichols
Cooper Pieplow
Lydia Webb
Stilwell Elem.
Joseph Banman
Laurel Driskell
Kimberly Lovell
Stilwell-Blue River Elem.
Riley Carlson
Masha Kinder
Topeka-McEachron Elem.
Mason Bartlett
Topeka-State Street Elem.
Amanda King
Marissa Smith
Hunter Towery
Topeka-Wanamaker Elem.
Maxwell McKibben
Valley Center Intermediate
Elena Alvarez
Corbin Burton
Esther Busenitz
Elle Goering
Milana McClellan
Emily Mineart
Valley Center-Abilene Elem.
Adee Carey
Megan Goering
Wichita-Classical School of Wichita
Ian Brown
Ezzie Cain
Hannah Chan
Lily Iverson
Lyla Kaufman
Olivia Liggett
Carrisa Thames
Audrey Winter
Wichita-Colvin Elem.
Isabel Velazquez-Wallace
Wichita-Lawrence Elem.
Cheyenne Bookout
Wichita-Paul B. Cooper Elem.
Anne Yuengel
Wichita-Wheatland Elem.
Ellie Johnson
Alternates
Alternates are displayed in alphabetical order. Should alternate(s) be needed, the choir chair will contact directors. Alternates are expected to be prepared with their music in the event they are called up.
| | | |
| --- | --- | --- |
| | Jaidyn Bradley | Valley Center Intermediate |
| | Leland Britton | Sterling GS |
| | Taylor Burdge | Goddard-Discovery Intermediate |
| | Maggie Carleton | Gardner-Trail Ridge MS |
| | Teagan Douglas | Riverton Elem. |
| | Gabrielle Gracius | Overland Park-Stanley Elem. |
| | Magdalena Grilliot | Roeland Park-St. Agnes Catholic School |
| | Steven Myers | Gardner-Sunflower Elem. |
| | Bethany Smith | Valley Center-Abilene Elem. |
| | Rain Warren | Frontenac-Frank Layden Elem. |