KMEA All-State
1234 Band
1234A High School Band
Time - TBA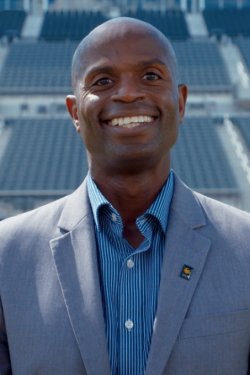 Tremon Kizer
2021 KMEA All-State 1234A Band Conductor

University of Central Florida
Tremon Kizer serves as the Associate Director of Bands, Director of Athletic Bands, and Assistant Professor of Music at the University of Central Florida. In addition to serving as the lead administrator for the UCF athletic band program, he conducts the Symphonic Band, teaches courses in music education, conducting, and observes music education student interns. Concurrently, he serves as the principal conductor of the Youth Band of Orlando, a high school honor wind ensemble based in Central Florida.
Under his direction, the UCF Marching Knights has the largest membership in university history with over 375 students. Recently, they have performed twice at the American Athletic Conference Championship, the PlayStation Fiesta Bowl, the Chick-Fil-A Peach Bowl, the Gasparilla Bowl, and the Auto Nation Cure Bowl. Furthermore, the Marching Knights have been invited, and have performed at Bands of America Regional Competitions, the Florida Marching Band Championships, and at the Magic Kingdom Walt Disney World. The Marching Knights has also been recognized and featured at the CBDNA Southern Division Conference. As principal conductor of the Youth Band of Orlando, in partnership with Conn-Selmer and American Youth Ensembles, notable performances have been conducted with guest artist such as Moanin' Frogs (saxophone quartet) and Christopher Bill (trombone).
In addition to his work at UCF, Tremon serves on the National Band Association Revelli Composition Contest Selection Committee, is on the Board of Directors for the Florida Youth Symphony Orchestra, and in 2022, will host the CBDNA Athletic Band Symposium at the University of Central Florida. He is an active guest conductor, adjudicator, and leadership consultant. As a guest conductor, he has conducted numerous district, regional, state, and professional wind bands such as the United States Army Band. He has been on staff for numerous music camps, drum major clinics, and collegiate and high school concert and marching band camps.
As a champion of diverse music, he has conducted and presented numerous works for chamber and wind band. Tremon frequently presents on programming literature that reflect the demographics of the students in the music classroom. He has given lectures and presented at numerous international and national conferences such as the Midwest Band and Orchestra International Conference, the College Band Director National Conference (CBDNA), the Southern Division CBDNA Conference, and the CBDNA Athletic Band Symposium. In addition, he has presented at several state music conferences and has been featured in The Marching Roundtable and Teaching Music.
Tremon comes back to Kansas living in Manhattan, Kansas, where he attended Manhattan Middle School and Manhattan High School. His public-school music teachers were Uel Burden, Scott Freeby, Joel Gittle, Rod Manges, Al Thompson, and Maureen Van Vechten. Upon graduation from Manhattan High, he earned his undergraduate degree in music education from Kansas State University, where his major professors were Dr. Frank Tracz, Dr. Paul Hunt, Dr. Jack Flour, Dr. Wayne Goins, Mr. Dennis Wilson, and Mr. Jerry Polich. Tremon went to teach in the Goodland Public Schools and later at Coffeyville Community College. Since leaving Kansas, Tremon has earned a masters from the University of Central Missouri, served on the conducting faculty at the University of Dayton, and earned a doctorate from the University of South Carolina.
His professional associations include the College Band Directors National Association, World Association of Symphonic Bands and Ensembles, the National Association for Educators Association, and the National Band Association. He is a member of Phi Mu Alpha and holds honorary memberships in Pi Kappa Lambda, Kappa Kappa Psi and Tau Beta Sigma. He relaxes by reading, studying, traveling, and spending time with his beautiful wife and amazing child.

TBA